A young designer enters the world of haute couture
By Ivan Belchev
Images: Tanya Kancheva
Tanya Kancheva was noticed during her studies by world famous haute couture names such as Vivienne Westwood and Ralph Lauren. In London, where competition is huge, she works for one of the most respected designers at the moment – Nicholas Oakwell. For charismatic Tanya every day is exciting, full of challenges and amazing stories from the world of fashion.
I started working in the marketing department of an international company. Of course fate knows best and one day I was offered to move to the English office of the company in a small town, 100 miles from London. I grabbed the challenge. And it was not hard for London to win my admiration and get me intrigued from my very first visit – I love big cities that fill me with respect and let me learn something while getting to know them.
After a year of work and saving in the small town I decided I wanted to check the opportunities for education in England and I set out a goal to learn how to apply and enrol for a Master's program. It actually turned out far different from my expectations. After a year I graduated successfully from the London University of Arts (the same that Stella McCartney, John Galliano and Alexander McQueen have graduated from) with specialty "Textile design". In the year of my education I won a fashion competition organized by Swarovski, which definitely gave me a boost for the future.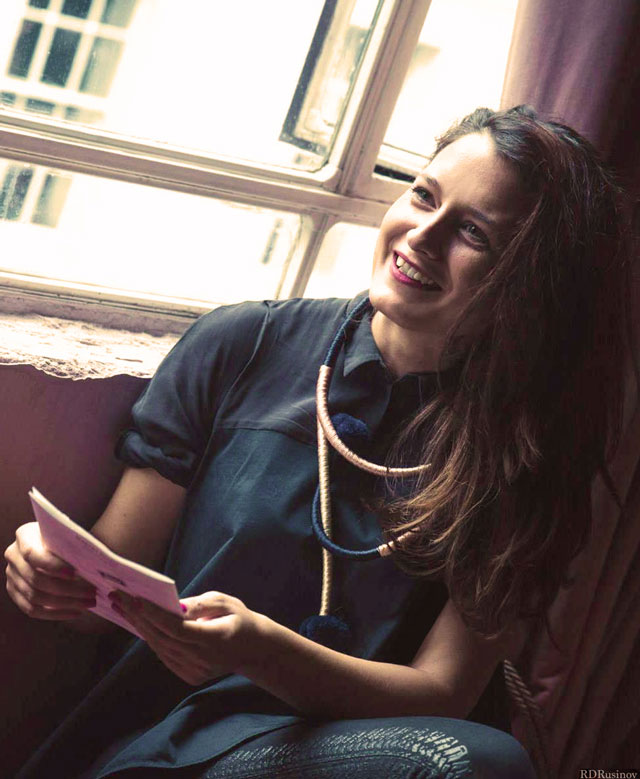 I am currently working for the haute couture fashion house – Nicholas Oakwell Couture London. Every day is exciting, different and I don't know how it will pass or whom I will meet. The stories and experiences are countless as among our customers there are often  princesses, royalty, famous actors, music and movie stars. Currently, we dress Nicole Scherzinger, who is a judge on the British X Factor, the singer Cheryl Cole, actresses Kristin Scott Thomas, Kate Beckinsale and many others. And the "star dust", drama and absurd stories around those famous ladies are endless. But I have to keep confidentiality.
I came at Vivienne Westwood after I was noted at the design contest, which I won in Italy during my education.
As for Ralph Lauren – the proposal came spontaneously. They called me on the phone from the marketing department of the brand in London. They found me on Instagram. Instagram is like a free portal to advertise yourself and show what you do professionally. In the flagship boutique of Ralph Lauren in Mayfair (Editor's Note – elite neighbourhood in central London, famous for its luxury homes) I was hired to sketch the new collection of the fashion week in New York, while the life review was running.