Nedelcho Laskov
Member of the team that won NASA's Ames Space Settlement Contest in 2014. Currently studying Aerospace Engineering at the University of Liverpool.
What have you accomplished so far?
My biggest success is undoubtedly my participation in NASA's Space Settlement Contest. The last project of my team won the Grand Prize, which skyrocketed us out of all the rankings of the competition. All other contests and competitions I have won are belittled by the feeling to present our project at that major NASA event.
How did you decide to study Aerospace Engineering in Liverpool? Was the project you presented in NASA what sent you there?
I wouldn't say so. My interest in this field was the reason why I chose this programme. Almost until the very last moment I had not decided in which country I wanted to continue my education. The key factors for my final decision were the tuition fees and expenses, the duration of the academic year, and my personal preference.
What are your goals in space exploration?
Upon graduation I would like to deal with designing and constructing of spacecrafts. And although I realize how naive it may sound, one day I would like to work on exactly what our project for NASA was, namely space junk. Then this issue will have become even more pressing and it will be necessary to take swift action.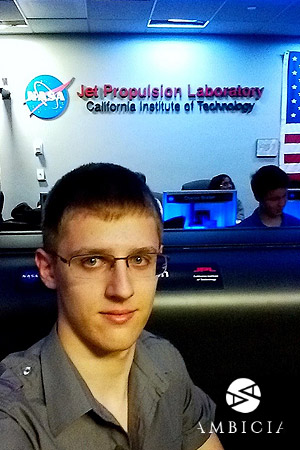 What are your thoughts when you look at the stars?
My greatest disappointment is that I was born too early and I will not be able to reach them and explore their worlds.
Many people just give up on their ideas, never share them with others and never fulfill them. You are not one of them. What is the inner motive that drives you to follow your dreams?
I believe that everyone should value their ideas. Furthermore, it takes some self-confidence and faith in one's own abilities. I am a person who comes up with new ideas every day, I am constantly seeking ways to improve something and although I understand that I cannot realize all of my ideas, at least I record some of them. It is much easier when you do not work alone, when you are part of a team. Sharing an idea and discussing it is essential for achieving success. There are only two possible outcomes if you share your idea, one is to have a fatal problem discovered in the idea and thus the idea ends up being trashed; the other option is the team you are working with to find a way to make it even better. In both cases, by discussing our ideas we continue to develop. Do share your ideas no matter how outlandish they may seem! Thus you can only win!
Everything you need to know about Nedelcho Laskov can be found here:
Video of the project for NASA