Fashion mix of Balkan spirits and Swedish minimalism
Interview with LAMIJA
Up and coming young designer LAMIJA managed to surprise us with her SS16 collection of laser cut leather, eyelets in laser cut skirts, and the special embroidery which is a signum for the brand. None other than
Giovanna Battaglia
sat on the front row which is a stamp of approval!
I meet Lamija at my favorite
interview spot in Stockholm, Taverna Brillo
, over a cup of cappuccino. She wears a black dress and red lipstick – signature for her, and looks at me with her deep brown eyes. Definitely a soulful girl from the Balkans, I think, and I am not wrong because Lamija
comes from Bosnia
and came to Sweden as a refugee with her family during the war. Both her parents are doctors so they did find jobs in Sweden and build a life here. However, Lamija and her family have not forgotten the war and the theme of fighting and loss comes back in her clothes design.
Ekaterina Larsson for Success Stories Mag :
The Embroidery, it is very Balkan.
Lamija:
Yes, I look at the national dresses and like the embroidery, the beads – it is very detailed. This is what I like when I work – details. I like heavy ornaments and combining that with the Swedish minimalistic silhouette. So this is my specialty.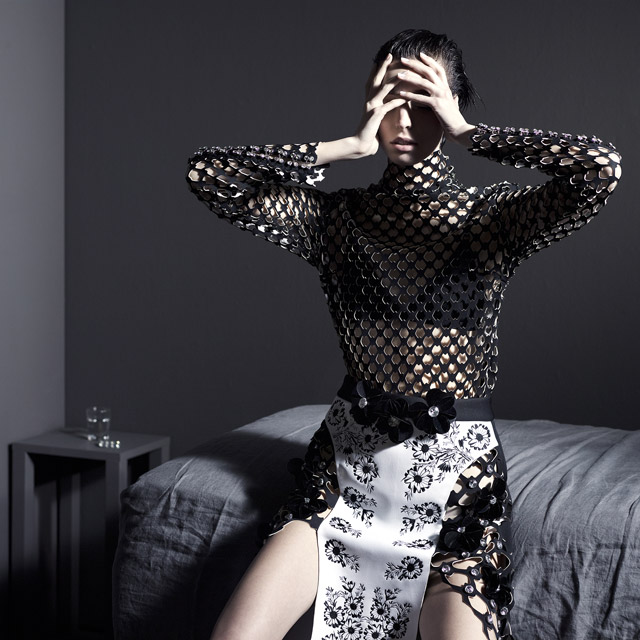 © Eric Broms
The embroidery in Bulgarian folklore dresses is mainly red and green (assuming Bosnian is similar). But in your clothes you use mostly black and white. Why?
Not only, I use silver and gold threads. And they have a lot of color sections as well, but for me the white and black I see it more as telling my story about the past and the future, which is Bosnia and Sweden for me.
Even looking at my sketch books I always use pictures in black and white even if they are in color I will remake them in black and white because I do not like seeing color when I work. It has to do with the past and the history and what I like looking at.
Using only the black and white then the details are more in focus. The shape is more important than the color.
In my new collection the theme is child birth. I was looking at the female side, which is the egg. So if you look at it microscopically it has a circle (the whole) and a double circle in it. So that is why I used eyelets – a technique I immediately thought of when I saw the picture of the eggs. And I also thought of the male side and the sperm, which is very organic. So I drew a laser cut pattern, which I use in the collection as a fabric. And a third pattern is combining that, which is symbolic of the way a child is created and is in the body – I used the eyelet (the circle) and the organic kind of line, which I made a lacing out of. So these are the three stages how a child is created and the story around the collection.
And how did you decide to become a designer?
I think it has to do with my background since in Bosnia people know how to sew and take care of their clothes. If something is destroyed they will sew it by hand. People in Bosnia are poor so they take care of their clothes and I grew up with that mentality. When I was 11 I knew how to knit and crochet, I knew how to sew and my mother helped me. She is the inspiration and the reason I got interested in fashion in the first place.
I studied in Växjo and picked a Textile specialization in high school. Then started a brand together with a friend at the age of 16. So we started with making collections and staying very late at school so I had a goal to be a designer very early on.
And now only 2 years later you have your own fashion show at Stockholm Fashion Week?
Actually after I graduated I went to Bosnia for a while and met a woman who works for Prada doing embroidery. So I went to her and she taught me how to embroider, some new techniques. So it was kind of a school. I spend my time looking for producers as well since I wanted to start producing in a bigger volume and to see people wearing my clothes.
So you do everything yourself now?
On the Autumn Winter collection I did, I had three weeks to do the embroidery on the clothes. It was really intense – I was sitting on the floor at my parents' house working on it and I remember they woke up, went to work, came back, went to bed and woke up to find me still sitting at the same spot. I had many problems with my back at the time! But I am talking to a factory now to produce my collections. Different factories for producing different things but they are all in the Balkan area. Some in Bosnia.
For the embroideries I want to find women who work at home and help them make some money. I teach them and I watch if they can make a sample. If they make a mistake, they start all over again until they can make a quality one. But so far they have only made pieces not whole items of clothing so I am not sure how it will work out. I also do not have a ready pattern when I start, I play it by ear, so they almost have to have a feeling for it. So I have some challenges when it comes to the embroidery.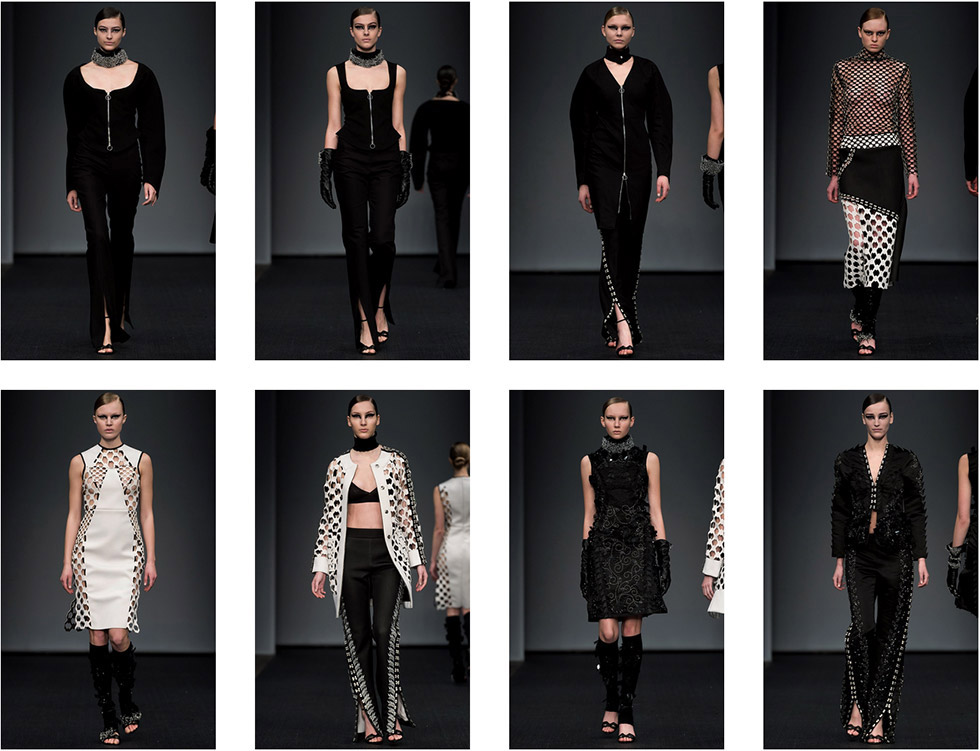 © Kristian-Löveborg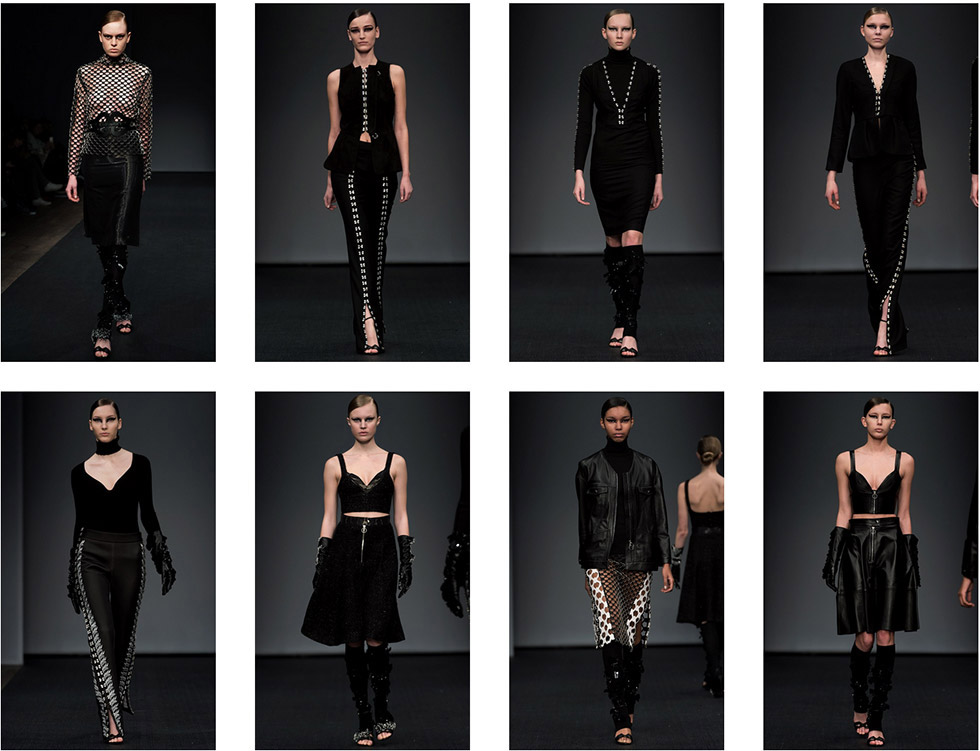 © Kristian-Löveborg
Which designers inspire you?
I really like
Hussein Chalaya
, for me he is really an artist – in his last collection he told a beautiful story how the clothes you have on you are the only things you can bring when you have to flee from a war. That is one of the most inspiring collections I have seen. But I also like Balenciaga and Prada – the silhouettes, the style is very interesting.
Where would you like to see your collections being sold, which stores?
Colette, Barney's, Lafayette. When I am ready though and can produce the right volumes.
Favorite destination to travel?
I would say
Sarajevo – it is the best place for me to go and relax
, meet my friends. It inspires me to just be there, see the old houses further away from Sarajevo that are run-down. Also the ones that were bombed during the war, they inspire me in a tragic way. I mean the war has been a big part of my life, I lost many relatives in it. So I like to go back to it but in order to remake it in an optimistic way and in my clothes. Like in some of my work I have embroidered you can see on the back side of the garment newspaper articles from the war. So on one side you would see this beautiful embroidery and when you open the jacket you will see war newspaper articles, almost like a lining. This is how I like to look at the war – to see the pretty in not so pretty.
Where would you recommend visitors to go in Sarajevo?
The National Library that just opened – it has beautiful architecture and ornaments, a lot of colors and mosaic – almost Arabic. They renovated it because during the war it was bombed and has not been opened in a very long time. And also there is a gallery that opened with an installation about Srebrenica – it is a documentation of real happenings from when they tried to find people that are missing (went missing during the war). Restaurant Kibe has traditional Bosnian dishes. It is up in the mountains so it has a very nice view over the city as well. And just walking around the streets in Sarajevo is very inspiring because people meet and socialize there in a completely different way than Sweden for example.