Forbes 30 Under 30 entrepreneur is working with scientists from all over the world
Interview with Alexander Naydenov
By Ivan Belchev
A year ago we introduced you Alexander Naydenov – a "vremigrant" (temporary emigrant) from Berlin and Sofia. Today we meet with him again in our "Update" column, in which we monitor what is the development in the life of our interlocutors since our first interview with them. He is one of the Forbes 30 Under 30 Europe 2017: Social Entrepreneurs.
PaperHive
In the last 12 months I was completely dedicated to my firm PaperHive – a software firm, based in Berlin, which I created together with Andre Gaul, PhD. We work with scientists and academic publishers from all over the world. We transform the reading of academic books and papers from an isolated process to active mutual aid and collaboration. Our web site is a hub for over 14 million scientific documents, many of them free for use; they can be commented directly in the field below, followed and shared easily. The scientists read between 12 and 25 hours a week and we help them to work more productively with their teams and with the scientific community. In 2017 we are expanding our platform with functions, aiding students. Amongst our clients are some of the leading biomedical and university publishers from Europe and USA.
The entrepreneur is a person, who jumps off a cliff and builds an airplane on the way down.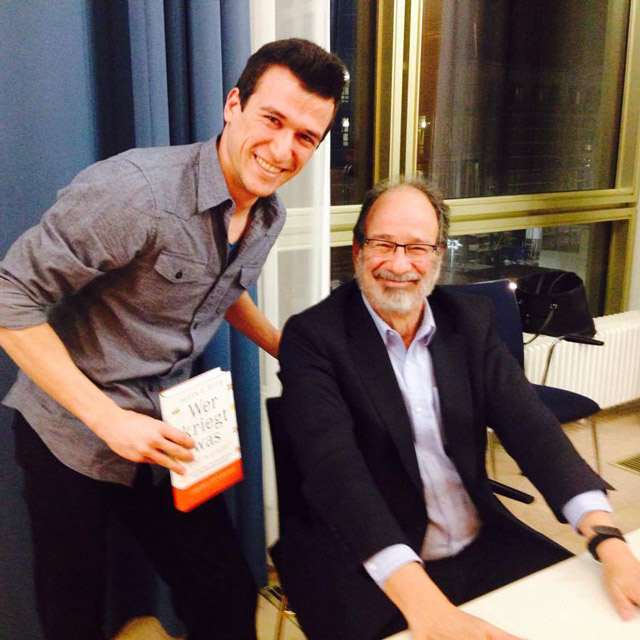 Alexander and Nobel laureate in economics Al Roth in Berlin (March 2016)
The words of Reid Hoffman, founder of LinkedIn, describe very well my day. We had to get to know the academic publishing industry from scratch for a year. We developed business relations with hundreds of representatives, some of which have more years of experience in their companies than we have on this earth. One has to balance between sales, marketing, employment, long-term planning… Recently I had a personal record for a short business trip abroad to coach a sales team of a partner company – in the morning I took a flight from Berlin to London and I traveled back in the afternoon.
The hardest thing is to keep up the tempo and to be motivated for a long time. Every day serves at least five failures and five successes and there is no time and strength to be emotional about them.